Advantage Service Company offers a line of progressive indoor air quality accessories and free estimates on HVAC-R equipment and installation in Little Rock, AR and surrounding areas. We specialize in in-duct air purification systems that provide effective whole-house improvement. The iWave air purifier utilizes patented needle-point bi-polar ionization to create positive and negative ions. The ions flood the air stream to benefit every cubic foot of air reached by the heating and cooling system.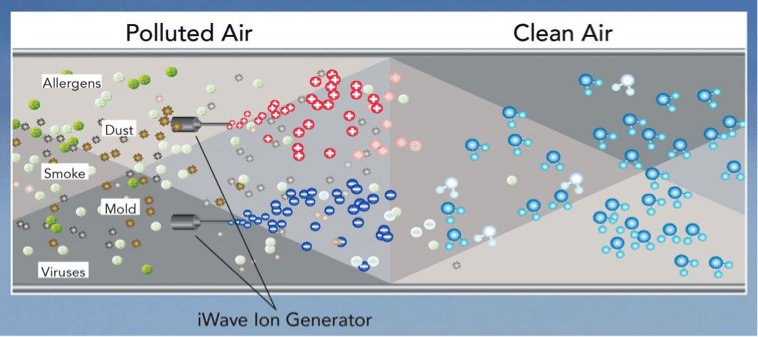 iWave Air Purifier Installation
The iWave air purifier works to break down contaminants and gases and reduce concentrations of harmful pathogens both in the breathing air and on hard surfaces. The ions kill bacteria, mold, and viruses. They attach to dust, pollen, and other particles, causing them to clump together, become larger, and more easily filtered out. You enjoy a healthier living or working space with no worry over toxic byproducts or ozone production.
Contact Advantage Service Company for your air purifier services!
The iWave technology imitates the process found in nature, creating ions through ocean waves, waterfalls, lightning, and sunshine to clean outdoor air. Consider this safe and rewarding innovation for your home or business. Reach out to Advantage Service Company at 501-663-2255, where One Call Does It All! We look forward to assisting you, discussing options, and implementing sustainable IAQ solutions. Our expert services are available throughout Little Rock, Conway, North Little Rock, Cabot, Sherwood, Maumelle, Jacksonville, and Levy, AR.
Watch a Video
Contact Advantage Service Company today to learn more!