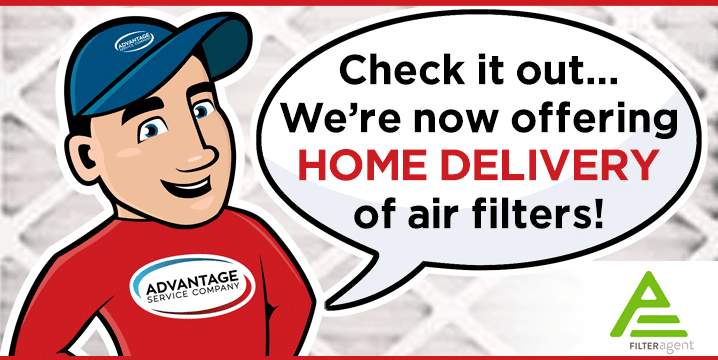 Advantage Service Company now offers the ease and convenience of home-delivery replacement air filters. These filters will be delivered 4x per year at just the right time and at just the right size to fit your home's heat/air system.


CLICK TO SIGN UP NOW



WHY CHANGE OUT YOUR AIR FILTERS REGULARLY?
Air filters play an essential function in creating a healthy environment for you and your family.
Air filters actually reduce stress on your HVAC units – saving you money!
Air filters are perfect for homes with pets!
… and our customers find that having a home-delivery air-filter service is super helpful as it relieves that burden of having to remember when to change and what size.  
HOW THIS WORKS:
You tell us the # and sizes of the filters you need for your home.
As an Service Agreement Customer, we will install these filters when we visit your home for our twice annual check-ups, and mail the other two at just the right time you need to replace.
Advantage Service Company customers pay just $8.99 per filter (plus shipping) delivered to your door.
THE FILTERS WE USE:
Our filters are rated MERV10 Efficient, resulting in a higher air flow that removes 85% of 3-10 Micron Particles. In layman's terms: these are great filters that will remove dust, pollen, pet dander, lint, mites and more! These are the same high-quality filters used in hospitals around the country to help stop the spread of airborne illnesses. Plus, they are also vastly more affordable versus the cost of an equivalent filters purchased from a "big-box" store.
Advantage Service Company has partnered with filteragent.com to ensure the highest quality service and product available!
THERE ARE THREE EASY WAYS TO ENROLL
Click on this LINK and go directly to our fulfillment partner, Filter Agent.
Call our Service Hotline and one of our Agent's will be happy to take your order!
Talk to your Advantage Service Company Technician when he next services your house. He will be equipped to take your order on the spot
INTERESTED IN EVEN CLEANER AIR FOR YOUR HOME?
We now offer Steril-Aire UV Lights. The professionals at Advantage Service Company can install these purifying light units directly into your home's heat & air system. We recommend one Steril-Aire system UV Light for each each heat & air unit in your home.
These unit provide high intensity germicidal UVC light that destroys mold and bacteria before they circulate throughout your home.  Even when your heating and cooling system isn't running, Steril-Aire UVC continues to work continuously for a clean, healthy home.
Steril-Aire is the unrivaled leader in indoor air quality (IAQ) improvement and trusted by hospitals and health systems around the world.
Eliminate mold and bacteria at the source with scientifically proven, high output germicidal ultraviolet light. Steril-Aire's safe, ozone-free UVC solutions continuously clean coils and turns your home air conditioning system into an air purification system.
Call us today to learn more about Steril-Aire at 501-663-2255.
---