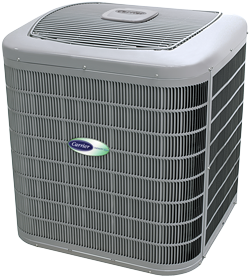 During the summer heat, your comfort depends on the reliable performance of your cooling system. Over time, without annual maintenance, the efficiency and capacity of your system will gradually diminish. To protect your investment, call the professionals from Advantage Service Company for timely and proactive service. In addition to minimizing energy consumption, a properly tuned system reduces wear and tear and the likelihood of premature equipment failure. The result is improved performance, healthier air quality, and lower energy bills that you're sure to enjoy.
Enjoy Uninterrupted Comfort with Annual Air Conditioning Service from Advantage Service Company
As a Carrier Factory Authorized Dealer, the team from Advantage Service Company receives ongoing training to remain current in advances in HVAC technology and equipment. We also offer cost-effective maintenance plans, which eliminate the worry and upkeep of your system so that you can relax and enjoy your summer.
Benefits Of A Properly Maintained Air Conditioner Include:
Energy Savings
Extended Service Life
Fewer Repairs
Superior Air Quality
Improved Comfort
Peace of Mind
Warranty Protection
AC Service in Jacksonville, AR | Air Conditioner Maintenance North Little Rock, AR | Air Conditioning Service Conway, AR
When you contact Advantage Service Company for seasonal maintenance, you can have complete confidence that your cooling system will perform properly.  We'll make sure it's ready to beat the heat and provide you with comfort for years to come. Serving Little Rock, North Little Rock, Conway, Cabot, Hot Springs, and all of Central Arkansas. Call us today!
Air Conditioning Service Near You
Warranty Protection – Manufacturers stipulate professional maintenance as necessary to continued warranty protection.  Without a record of service, damage that is the result of neglected maintenance is not covered.
Energy Savings – A clean, well-tuned system does not need to work as hard to maintain desired temperatures and consumes less energy.  This results in lower operational costs.
Extended Service Life – Maintaining your equipment in peak condition allows smooth operation, reducing strain, and promoting reliable performance year after year.
Fewer Repairs – Professional troubleshooting catches minor concerns before they graduate into major malfunctions.  Tuning, adjustment, and replacing faulty parts eliminates most repairs and saves on operational costs over the life of the system.
Superior Air Quality – The inner workings of a split system can hide dust, pollen, insects, webs, dander, mold, animal feces, and decomposing rodents, leading to bacteria introduced into breathing air.  Thorough cleaning promotes a cleaner, healthier, and more comfortable home environment.
Improved Comfort –  Careful tuning and adjustment allows your cooling system to operate at maximum capacity.  Superior dehumidification, filtration, and temperature control creates a refreshingly cool home.
Peace of Mind – When you contact Advantage Service Company for seasonal maintenance, you can have complete confidence in your cooling system.  We'll make sure it's ready to live up to your expectations for comfort.
Trust in the professional AC service from Advantage Service Company!
---
View Our Other Services
---